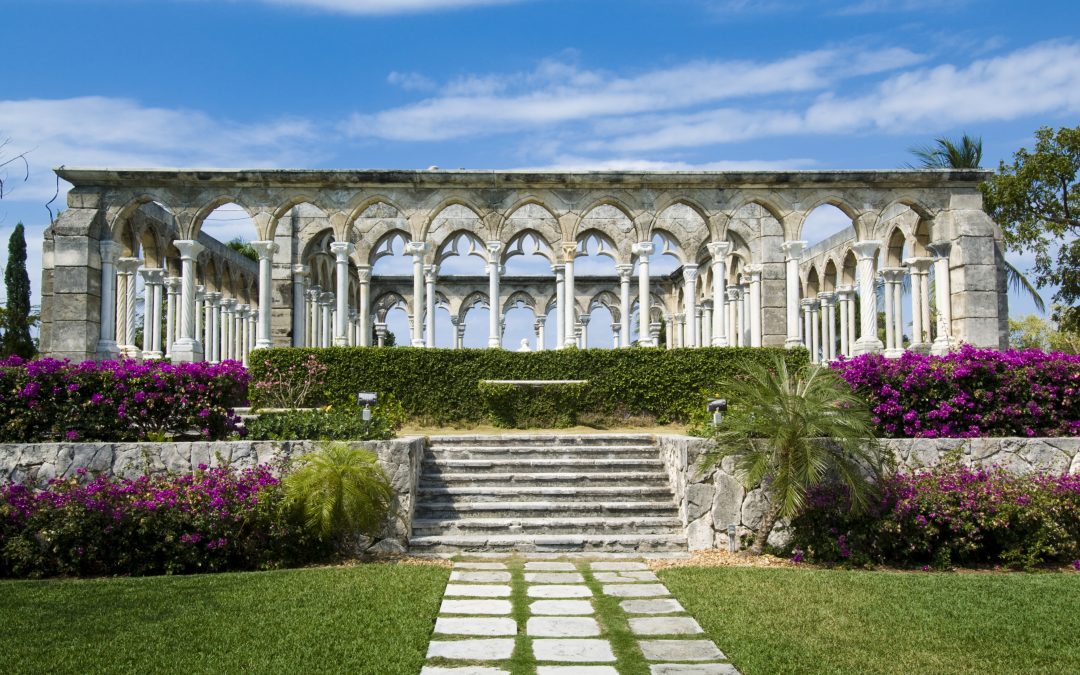 If you're looking at hosting your destination wedding in The Bahamas, you're spoiled for choice.
It features dozens of different beaches… a myriad of luxury resorts, beachside boutique hotels, and eco-lodges… charming towns and villages… beautiful natural surroundings… and other ideal venues spread across the country's 700 islands, 40 of which are populated, including Exuma, Grand Bahama, Abaco, New Providence, Eleuthera, and more.
No matter where you go, you'll enjoy warm weather, sunny days, welcoming people, and a laidback island vibe. It's the perfect backdrop to your special day. Picture crystal clear blue water, white sands, swaying palm trees, tropical foliage, blue skies… maybe a steel drum soundtrack?
With 40 populated islands and dozens of beautiful beaches, not to mention picturesque natural areas, villages, and communities, it's the perfect setting for your wedding and perhaps even your honeymoon.
1. The Cloisters, Nassau, Paradise Island
It's hard to believe but there is a 14th century monastery made of stone in The Bahamas. It was brought over piece by piece from its original home and rebuilt on Paradise Island, overlooking Nassau Harbor.
These days it's a very popular venue for weddings with its stone arches and manicured gardens – a historic and dramatic backdrop for your ceremony. And just imagine the photos you can get in such a setting.
2. Tiamo Resort, South Andros
You won't be "roughing it" at this eco-lodge on one of The Bahama's most pristine and undeveloped islands. It's a luxury resort with an environmentally friendly twist that seeks to blend the resort experience with natural beauty. It's ideal for a white sand beach wedding.
3. Old Fort Bay, New Providence
The centerpiece of this exclusive waterfront community known as Old Fort Bay is a restored 17th century colonial fort. Imagine immersing yourself in its rustic charms.
A bonus: because this venue has indoor and outdoor areas, you can handle any sort of weather conditions for your wedding in The Bahamas. And because there are plenty of vacation rentals, including those on the water, in the community, you and your guests have plenty of places to stay.
4. One & Only Ocean Club, Paradise Island
Featuring extensive, exquisitely landscaped grounds, romantic gardens, and a white-sand beach, you have several possible locations for your wedding in The Bahamas at this luxury resort property. There's also a spa, golf course, and daily yoga classes – fun for you and your guests.
5. British Colonial Hilton Nassau
Situated in the heart of Nassau, this classic hotel features a private beach. That means a very intimate wedding ceremony for you, your new spouse, and all your invited guests. Plus, the fun activities available in Nassau are on hand during your entire stay.
Bonus Pick #6 – Harbour Island
Have you ever seen pink sand? It's not very common around the world. But you'll find it in abundance on the long secluded beaches of Harbour Island's eastern shore. It's a picture postcard perfect backdrop for your beach wedding… with few tourists to disturb you.
Keep in mind that Harbour Island is very exclusive and high-end. Here are some resorts you might check out: Pink Sands Resort, Coral Sands Hotel, Ocean View Club, and The Otherside.
Your Next Steps
There are so many beautiful locations and venues for a wedding in The Bahamas. It's hard to pick the best ones. We'll be back soon with the next five that we feel are head and shoulders above the rest thanks to factors like convenience, natural beauty, picturesque views, and appealing beaches.
And right now, why not check out these locations more in-depth to see if they might fit with your wedding plans.